Guide for Newcomers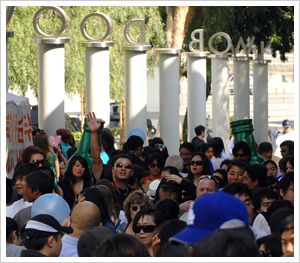 In 2003, the inaugural Korean Music Festival was brought to Southern California by the Korea Times to create a memorable night of music and harmony among Korean Americans.
The Korea Times, as the leading news organization in the Korean American community, set into motion a variety of plans to commemorate the centennial anniversary of Korean American immigration to the United States and boldly presented a grandiose show that had never been attempted before. As one of the largest music festivals throughout Southern California, the Korean Music Festival's one of a kind program brings to our patrons only the most noted artists of Korea to celebrate the lives of Korean Americans of all generations. Each year, the Festival surpasses all expectations and records as it takes root as a Korean American tradition.
The inaugural concert in 2003 featured more than 18 top-tiered artists from Korea, and aroused overwhelming encouragement and anticipation from the community. With such attention, the inaugural concert successfully opened to a sold-out show, selling out 18,000 seats in a mere 14 days. As a single concert, it is the largest in its scale, demonstrating a cohesive marketing effort that had never been tested in major venues. With enormous support from corporate sponsors and the community, the Korean Music Festival at the Hollywood Bowl continues to gain indisputable popularity and reputation as it records a sellout every year.
The Korean Music Festival is held at the world-famous Hollywood Bowl and attracts people not only from Southern California, but also from the rest of the nation and the world.
The Korean Music Festival at the Hollywood Bowl puts its patrons at the center of the Korean Wave that is sweeping across Asia. Globally renowned artists such as BoA and Rain have graced the stages of the Korean Music Festival to elevate it into an occasion enjoyed by Koreans and non-Koreans alike.

Dining Options
You may bring your own food and drink (details below) or purchase on site; options range from a gourmet restaurant to concession stands, all managed by the Patina Group. You can even order dinner in advance to be served at your box.
Click here for more information on dining options.
Exactly what food and drink you can bring depends on the type of event: Policies for lease events (concerts presented by other organizations).
You may eat at your seats (whether box seats, SuperSeats, or bench seats) or at one of the picnic areas scattered around the grounds. Come early because picnic benches are popular!
Dress Options
People wear whatever they find comfortable (but no bare feet, please!). Be aware that it can become quite cool later in the evening, so it's a good idea to bring a blanket or an extra jacket.
Additional Info
The Hollywood Bowl is near various hotels that can provide overnight accommodations for those who are traveling.
Audience Services representatives are available to assist with all your Bowl-related questions, seven days a week, 10am to 6pm, at 323.850.2000.
Detailed Theater Policy information can be found here.

Hollywood Bowl
2301 North Highland Avenue
Hollywood, CA 90068
View Map
HB Radio 820 AM
Listen to the Hollywood Bowl radio traffic advisory for the latest update on traffic conditions in and around the Hollywood Bowl. Just tune to 820 on your AM radio dial.
Bowl Parking is Limited

General Parking
Parking prices are $23-$50. Arrive early to ensure availability. All parking lots are stack parked and there is no early exit. Gold and Preferred $50, Lot A $27 ($26 in advance), Lot B $25 ($24 in advance), Lots C and D $23, Buses and Limos $50, Motorcycles $10. For additional parking information and pre-concert purchases please call 323.850.2000. On the day of the concert parking is available for purchase at the lot only.
Motorcycles can park in lots A, B and D for $10 per motorcycle.
Donor Valet
Donor Valet parking at the Hollywood Bowl is one of our most exclusive donor benefits. Donors at the Bronze, Gold, and Platinum Valet levels will enjoy one-way valet service and a designated non-stacked parking space.
For more information, please see the Donor Valet page. (Valet parking is not available in advance for lease events at the Hollywood Bowl.)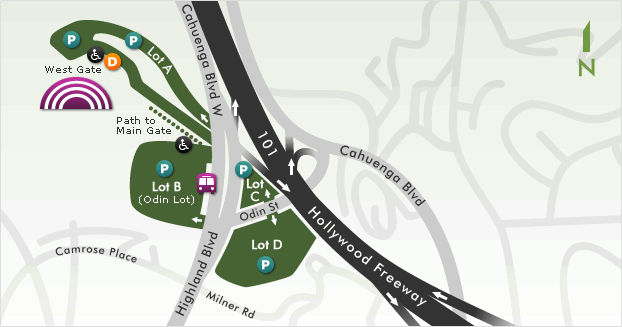 Metro
Regular Metro lines serving the Bowl:
No. 156 Local (from San Fernando Valley or L.A.)
No. 222 Local (from West Hills, Burbank, and Hollywood)
For additional information on regular Metro lines, check with Metro Trip Planner at metro.net or call 323.GO.METRO (323.466.3876).
Fare:
The introductory Metro Tap Card discount for Shuttle use has been discontinued.
Park & Ride
$7 per person round trip when pre-purchased (fees may apply depending on point of purchase)
$12 per person when purchased at the lot.
Tickets are cash only when purchasing at the lot on the night of the concert. Please bring exact change ($12) and arrive at least 20 minutes early.
Passengers with pre-purchased Park & Ride tickets will be given boarding preference, provided they arrive no later than ten minutes prior to their ticketed departure time.
For concerts with pre-shows (Sing-A-Long Sound of Music, for example), Park & Ride departure times are based upon the start time of the pre-show, not the concert.
Park & Ride tickets are available online until 10am on the day prior to the concert. When selecting print at home delivery (TicketFast for lease events), you must be able to print tickets (mobile tickets will not be accepted). By phone, please allow two weeks for mailing.
Lots and locations subject to change.
Park & Ride Locations
Lot 2 Westwood (Line 652) – 3:35, 3:40, 4:00, 4:15, 4:30 & 5:00PM
Federal Building parking lot at 11000 Wilshire Blvd. Entrance to parking area is off Veteran Ave. Bus stop is on Veteran Ave.
Lot 3 Chatsworth (Line 653) – 3:35, 3:40, 4:00, 4:15, 4:30 & 5:00PM
Chatsworth Metrolink Station,10046 Old Depot Plaza Rd. (one block west of Canoga Ave.) Bus stop is in parking lot
Lot 5 Pasadena (Line 655) – 3:35, 3:40, 4:00, 4:15, 4:30 & 5:00PM
Pasadena public parking lot, northeast corner of Marengo Ave. and Ramona St. Entrance to parking area is at 240 Ramona St. No overnight parking in garage allowed.
Lot 7 Torrance (Line 657) – 3:40, 3:50, 4:00, 4:15 & 4:30PM
Wilson Community Park, 2000 North Crenshaw Blvd. (between Carson St. and Sepulveda Blvd.) Entrance to parking lot is off Jefferson St.
Lot 10 Lakewood (Line 660) – 3:40, 4:00 & 4:30PM
Lakewood Center Mall (Lakewood Blvd. and Candlewood St.). Parking area is off Candlewood St. and Graywood Ave. Bus departs across from Hometown Buffet
Round-trip cost: only $6 per person. Available in advance through Ticketmaster (available online and by phone until two weeks prior to concert, convenience charges apply).* Cash only when purchasing at the lot.
Lots are wheelchair accessible.
*Except Hollywood & Highland
Departure Times
The first departure times for the Bowl Shuttle from each of the lots listed below are as follows:
8:30PM CONCERTS: 6:00pm departure from lot
8:00PM CONCERTS: 5:30pm departure from lot
7:30PM CONCERTS: 5:00pm departure from lot
7:00PM CONCERTS: 4:30pm departure from lot
6:00PM CONCERTS: 3:30pm departure from lot
The last bus departs each lot at concert time.
For departures to the Hollywood Bowl during Playboy Jazz Festival: First departure will be at 1:00pm.
For departures from the Hollywood Bowl during Playboy Jazz Festival: One early departure at 8:30pm. Next departures will start at the end of show.
Detailed Maps and Directions
Departure times every 5-10 minutes, beginning 2 1/2 hours before concert.
(10801 Ventura Blvd., near Lankershim)
From the Hollywood Freeway (101) North or South, exit at Lankershim Blvd., to Ventura Blvd., turn right into parking lot.
Subject to stacked parking.
Shuttle ride is free when you show your valid Metro TAP Card (concert date only).
Ventura Annex Lot (Line 668 B)
Departure times every 10-15 minutes, beginning 2 1/2 hours before concert.
10601 Ventura Blvd. Parking lot is on the corner of Ventura and Lankershim.
Closed Tuesday, Wednesday and Thursday.
Shuttle ride is free when you show your valid Metro TAP Card (concert date only).
Hollywood & Highland Lot (Line 671)
Hollywood & Highland entertainment complex, 6801 Hollywood Blvd. Entrance to parking structure off Highland Ave. or Orange Dr. Parking fee required. Click here for parking prices.
Bus stop in Orange Court.
Shuttle tickets not available in advance.
Shuttle ride is free when you show your valid Metro TAP Card (concert date only).
Departure times every 10-20 minutes, beginning 2 1/2 hours before concert.
Note: The L.A. Zoo shuttle lot will not be used for either day (June 11 and 12, 2016) of the Playboy Jazz Festival.
 Shuttle tickets are not available in advance.

 Shuttle ride is free when you show your valid Metro TAP Card or Union Station parking ticket (concert dates only).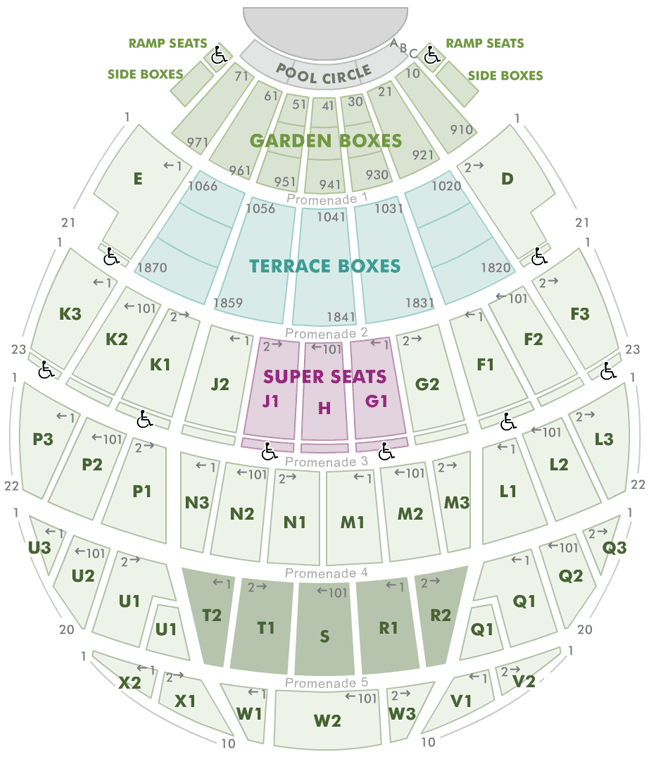 TOP